Hanoi Buffaloes and Hanoi Telecom present the Dream Hoops 2022 to Nguyen Du High School
27.09.2022
(Tổ Quốc) – Nguyen Du High School is the next place to receive a basket in the Dream Hoops Contest – Tell a good story, get the dream hoops from Hanoi Buffaloes.
In addition to focusing on competing in VBA, Hanoi Buffaloes is one of the active teams participating in community activities, creating more distinctive marks for the first professional basketball team in the North. and Dream Hoops Contest is one of them.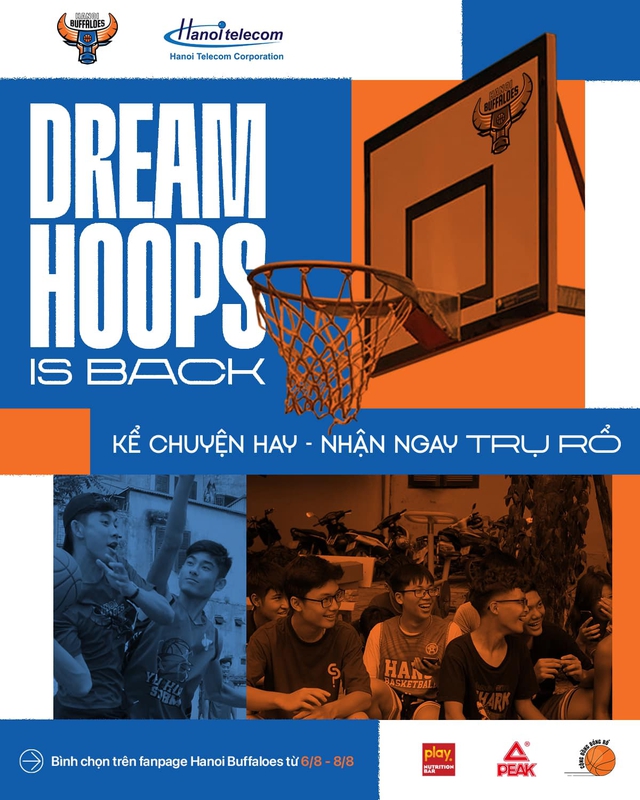 After the first event was held at the end of 2020, the program "Tell a good story, get the dream hoops" continues to be organized by Hanoi Buffaloes at the VBA 2022 season. The program was launched on August 2 and received enthusiastic support and participation from students across the country.
And after more than a month, through hundreds of stories told by young people across the country, Nguyen Du High School in Thanh Oai district, Hanoi city received the gift of 2 standard hoops from Hanoi. Buffaloes and Hanoi Telecom.
As the trip to donate the dream hoops at Huu Nghi 80 School in Son Tay town earlier in 2020, this journey of Hanoi Buffaloes also had the presence of teacher and coach Eric Weissling.
Present at Nguyen Du High School on the morning of September 26, the players and coaches of Hanoi Buffaloes received a warm welcome from the students here. Besides two standard hoops, Hanoi Buffaloes also brought 6 scholarships for 6 students who are excellent at Math and Computer science, a special gift from Tekmonk Institute of Technology. Besides, it is impossible not to mention the special gifts from PEAK Sport Vietnam and PLAY Nutribition.
In addition to the gifts mentioned above, the players and coaches of Hanoi Buffaloes had a pleasant conversation with the students of Nguyen Du High School in general and the school's basketball team in particular, creating a great atmosphere, vibrant, bustling, attracting a large number of students to participate. The climax of this meeting took place in a match between Hanoi Buffaloes and the school's basketball team, where young people competed with idols.
Talking with the team's representative, Hanoi Buffaloes said that the leadership team is particularly interested in community activities to promote the love of orange balls in the school environment. Dream Hoops Contest has entered its 2nd year and also received an enthusiastic responses from companion units and brands.
The image of Nguyen Du high school students participating enthusiastically, warmly welcoming the Hanoi Buffaloes football team, and holding on in the moment of parting partly shows the success and respect of the students. Hopefully, the two hoops of Hanoi Buffaloes will help young people with a passion for orange balls have more motivation to study, practice, and realize their dream of standing on the VBA stage in the shirt of "Capital Buffalo".
Some other pictures from Hanoi Buffaloes' exchange and gift giving session at Nguyen Du High School: