EcoDC pioneers the green data trend for the data center industry
02.04.2021
Keeping up with the "greening" trend, with a project called ecoDC data center, HTC International Telecommunication (HTC-ITC) held a discussion with customers and partners before the official launch in November 2020.
In the context of our living environment being seriously threatened by human daily impacts, "greening" becomes an optimal choice for many industries and many fields. In which, green data center is a typical example in the information technology industry.
There have been many questions raised that, how to build and operate a "green" data center, sticking with the environment in sustainable development. The related issues are also dissected such as cost, how to maintain …, making many suppliers, even though they want to, are afraid of the green trend. The engineering industry has always focused on certifications, the Eco Data Center (abbreviated as ecoDC) of the HTC International Telecommunication Joint Stock Company (HTC-ITC) was born, bringing a new step in engineering. technology to improve service quality for green data trend. The engineering industry has historically focused solely on technology certifications, which is a key foundation, sometimes imperative in investment and development decisions. However, with the trend of serviceization, and the trend of building smart infrastructure, ensuring both safety and security, while meeting the elements of aesthetics and environmental friendliness, Eco Data Center (write for short is ecoDC) of HTC International Telecommunication Joint Stock Company (HTC-ITC) was born, bringing the green trend and the orientation of offering solutions and services that are most user-friendly and environmentally friendly, namely exploiting and providing Hosting and Cloud server services.
How was EcoDC green data center formed and operated?
As the leading data center in Vietnam meeting Uptime Tier3 standard in both design and construction, ecoDC owns many outstanding advantages. Regarding technical standards, ecoDC is applying inrow cooling system. This is the most modern and pioneering energy-saving technology deployed in Vietnam that allows cooling temperature control to each server. With this system, air conditioning running along the rack, with hot air intake device will help increase cooling efficiency, reducing power consumption ~ 1.3 contributing to environmental protection, while other data centers are maintaining with power consumption ~ 1.6.
The most prominent and cutting-edge feature of the Uptime Tier3 certificate is the average failure time per year. If Uptime Tier1 and Tier2 have 28.8 hours and 22 hours of failure per year respectively, Uptime Tier only has 1.6 hours of failure. Built in a remote place is Hoa Lac Hi-Tech Park, 32km from Hanoi city with comfortable space, area of 3000m2, 5 floors with 750 racks containing unlimited resources. With connection technology, standard equipment will support the storage and back up data suitable for companies with large amounts of data that need security.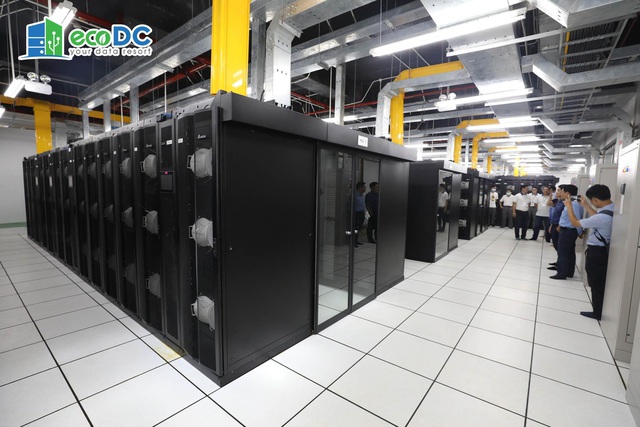 EcoDC is oriented to be environmentally friendly by being built in a green, large space with many trees and lakes like a resort – helping with good health and spirit. EcoDC green data center is a realization of data according to the trend of saving, sustainability, associated with protecting and improving the surrounding environment.
Green data also means bringing safety to users' data and cybersecurity for each customer. ecoDC is developing towards friendly service from facilities to quality of service provided.
Definition of ecoDC brand – green data trend
Eco is in the word "ecosystem", which implies that an ecosystem consists of three factors: technology – technology – and the environment. The Eco here also shows the optimal and cost-effective solution that our expert team will provide to partners.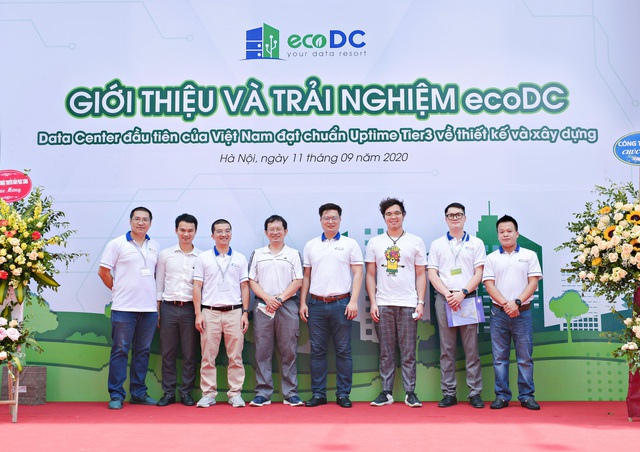 EcoDC logo is designed with green and blue tones representing green space and information technology respectively. With the space of the ecoDC building under the green concept completely different from other suppliers in the market, customers coming to ecoDC will experience their very own resort space along with ecological areas such as golf courses. , swimming pools, and tennis. etc.
EcoDC will officially launch and start operating from 11/2020. In addition to being able to better support customers in the Hanoi area, with the newly launched Datacenter, HTC Telecoms International (HTC-ITC) customers can deploy applications, and software in different regions (regions) to ensure availability for enterprise applications and software.
EcoDC is developed and operated by HTC International Telecommunication Joint Stock Company (HTC-ITC), a member unit of Hanoi Telecom, was established in 2007, up to now has marked a 13-year journey. With the leadership of the Board of Directors, the dedication and continuous development efforts of the staff, the year 2020 marks HTC-ITC as one of the top 10 companies in the field. Most Prestigious Information and Telecommunication Technology in Vietnam.
The most special thing about ecoDC, the event on September 11 was held and received many comments from customers, partners on how to operate and service organization. Thereby ecoDC will be more complete and ready to launch next November with many superior features and different orientations compared to other suppliers in the market.